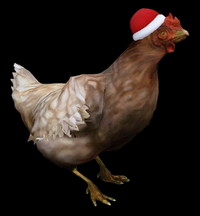 A Chicken is an unseen animal that is mentioned in the Saints Row series.
Description
The Chicken is used as a popular human delicacy and is turned into Chicken Bazooms for Freckle Bitch's. However this was seemingly discontinued when Councilman Phillips closed down shop.
The Protagonist reflects upon wanting Chicken Bazooms in Saints Row IV, but this is unlikely as the Earth was blown up by the Zin. If Zinyak is anything to go by, he wasn't interested in saving farm animals.
Chicken Ned is the closest that Saints Row comes to having an animal.
See also