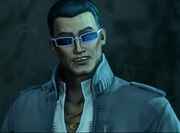 this contains spoilers for Saints row IV.Jamie Gat was Johnny Gat's little brother and a member of the 3rd street saints.
Saints row
Jamie was a teen in high school and Johnny said he was too young to be a saint.He trained to be a hitman in his basement.
Saints row 2
Jamie became a robber for the saints.
Saints Row the third
He finally became a  saint and became a hitman for them.He shot up everyone he could see with double pistols but was sucked out of lorens plane but possibly survived with johnny.