La Fratelli is made up of Italians, Albanians, Caucasians and Hispanics who usually hang out at the pizza and pasta shop they also do bank robbery, gambling,street racing,cyder and playing games. This led by Cagero Grimaldi. The crew was created in Italy and then moved the United States.
Members
La Fratelli led by Cagerlo Grimaldi.Their gang color is green,Their symbol is green biohazard.Fratelli described as cyder motorcycle racer group with sword.They appeared to be mix of Italians, Albanians, Caucasians and Hispanics.The gang use motorcyles and cars and they go very superfast.
Appearance
La Fratelli mainly wears green leather jacket, leather vest and tight white paints and jeans as a low class, as of high class their wear black leather, leather vest with tight green pants or jeans also tight, but some members wears differant clothing like some wear leather hoodies, plain tight short sleeve shirt and leather pants. they wear green and blacks sneakers also wears boots.They have their symbol back of the jacket or a vest. They have samurai swords attached to their back similar to the Ronin and Deckers.
Main Members
Cagerlo Grimaldi - A Leader
Chris Tomasulo - A Co Leader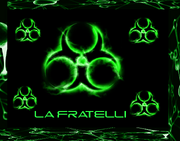 Lindita Chavez - The Brains
Kimi Tomasulo - The Fighter
Jason Grimadi - Muscle and Right Hand Men
Ahren Lombardi - A Racer
Trivia
La Fratelli Have many similarities with the Sons of Samedi and Luchadores gangs because they wear green.
The Gang is the most toughest dangerous gang, also they are masters of fighting like martial arts, no one can touch them but if you mess with them your dead.
The majority of members speak English but some speak Italian, Albanian and Spanish.
La Fratelli is an Xbox gang.
The Brothers in English translate to La Fratelli in Italian.